Room 8 - Lumber Camp Office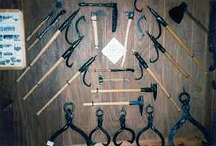 This continuation of the lumber camp exhibit shows the office and bedroom for the camp boss. The lumberjacks lived in bunkhouses.

The early polaris snow traveller was used in the sugar bush during tapping, and sometimes hauled sleighs with gathering tubs, when the snow was deep.

All of the tools in this display were made by Jack F. Walsh. He was the blacksmith in Lyons Falls years ago. He could iron completely from A to Z a buggy or a wagon.In the lumber woods the heavy skidding tongs were always breaking, and peaveys and canthooks, and chains, and toggle hooks and so on. The woods people began getting him to forge these things for them. Even the long racks of tools that he used, he himself made - hammers and sledges and cutting tools and dies for shaping things, literally hundreds of them. The fame of his forgings was wide spread; his customers came from far distant States.
Room #1 | Room #2 | Room #3 | Room #4 | Room #5 | Room #6 | Room #7 | Room #8 | Room #9