Room 7 - Lamb's Room - Lumber Camp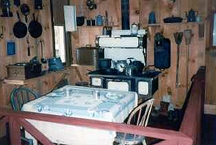 This room is dedicated to Robert and Florence Lamb whose generosity allowed the acquisition of this building and many of the items in this room.

The lumbering and maple syrup industries are closely related. You will see a display of snowshoes, chainsaws and some of the tools of the lumberjacks. The kitchen shows the stove and other utensils used to prepare their meals.
Room #1 | Room #2 | Room #3 | Room #4 | Room #5 | Room #6 | Room #7 | Room #8 | Room #9