Room 5 - The Storage Shed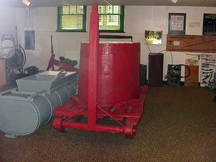 In this room is a variety of sap buckets, spiles and spouts. The Indians used bark containers to collect sap. The Europeans used wooden buckets. The newer buckets are metal with covers to keep rain water and dirt out of the sap. The latest innovation is plastic tubing, which reduces the labor needed for sugaring.
Wood is the most common fuel available for firing evaporators. It has to be cut and split for use the following year. The evolution of wood cutting tools can be seen. The drag saw replaced the two man cross cut saw and the chainsaws replaced the drag saw.
Room #1 | Room #2 | Room #3 | Room #4 | Room #5 | Room #6 | Room #7 | Room #8 | Room #9